It's National Bike Month, a celebration of cycling promoted by the League of American Bicyclists that we look forward to every year! Bike Month is held every May in communities from coast to coast. And here in Hawai'i, we kicked off Bike Month with the first official Ride a Bike Day on May 2nd followed by National Bike to School Day on May 5th.
Enabling participants to celebrate the joy of active commuting while building a sense of community and school spirit, Bike to School Day is particularly near and dear to us here at PATH, since the event always calls attention to the importance of creating safe routes to school!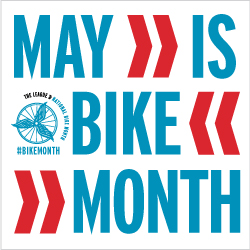 The first week of May was also Week 1 of the Hawai'i Bike Challenge, a fun and friendly bike challenge for Hawai'i residents that runs through May 31st. From new riders to seasoned cyclists, local teams are all competing against each other as we speak, dashing to earn the most points by riding a bike, encouraging others, and spreading the bike love. ?
A variety of prizes are being raffled off to participants along the way, so rally your friends, family, or coworkers and register your team of up to 10 here: Hawai'i Bike Challenge Registration
National Bike Month also presents the perfect opportunity to highlight the many benefits of bicycling, which we'll look at today. We'll also share some important tips for safer riding and a few fresh ways to celebrate #BikeMonth, so keep reading!
The Benefits of Bicycling
The jury is still out on whether bicycling is the solution to world peace, but this much is certain: Riding a bike can help everyone improve their mental and physical health, and healthier individuals means a healthier world!
Whether you're going for a short, leisurely ride or biking at race pace in a time trial,
riding a bike has been shown to strengthen muscles and bones, improve joint mobility and flexibility, and help with healthy weight loss. Bike riding can be a low impact way to manage and even prevent cardiovascular disease, stroke, diabetes, and arthritis.
Additionally, studies show that biking improves sleep quality, relieves stress, and mitigates anxiety and depression. And a half hour of riding a bike has been shown to improve mental focus and subjective mood. That's the scientific way of saying that riding a bike can make you sharper and happier!
7 Tips for Safer Bike Riding
1) Communicate Clearly: It might seem boring, but play it safe by riding in a straight line. Signal your turns and look behind you before turning or changing lanes. And it should go without saying that you should not swerve between cars when riding.
Don't ride on sidewalks if you can help it. And make eye contact with drivers if possible, so you can be sure they see you.
2) Be Visible: When you ride, your intentions should be clear to everyone you share the road with. But if you're not even visible, then clear intentions won't be very helpful! Bike where others will see you and go the extra mile by wearing bright and /or reflective apparel.
Both neon colors and reflective clothing can get a driver's attention, keeping you safer. And wearing reflective clothing on the top and bottom will actually create a human shape that is reflected back to the driver! Reflectors, a front white light, and a rear red light will also go a long way in keeping you visible while on the road.
3) Be Proactive: Keep any eye out for potholes, debris, and other hazards in the road. Watch for vehicles that are turning or pulling out of driveways and parking lots. And don't weave around parked cars, or ride too close and risk being hit by a car door that's opened too quickly.
Practice defensive riding, taking note of what other cyclists, drivers, and pedestrians are doing and anticipating any hazards so you can take the necessary precautions and stay out of harm's way. And be aware of your surroundings by staying off your phone and minimize distractions by leaving your headphones at home!
4) Be Ride Ready: Before you head off for a ride, check your bike's tires to ensure that they have enough air, test that the brakes work properly, check your chain for rust or anything that may keep it from running smoothly, and make sure that the quick release levers are closed. If appropriate, carry a spare tube, mini-pump, and multi-tool with you when you ride.
And never take off on your bike without a helmet! No, a helmet dangling from your handlebars doesn't count. And we all know better than to plop the helmet on our head and ride off without fastening it first… Right?!
5) Social Distance: Until we're completely out of the woods with COVID, it's best to keep a bandana, mask, or neck gaiter with you when you ride. Make sure it's something you can easily pull over your nose and mouth when others cross your path. And continue to keep at least six feet between you and other pedestrians and cyclists (that's about one bike length)!
6) Obey the Law: Bicyclists have the same rights as drivers, but we also have the same responsibilities as well. Riding a bike doesn't mean the rules don't apply to you, so obey all stop signs and traffic signals.
If you are riding your bike on the road, then ride with traffic, staying in the bicycle lane or in the shoulder. Whether you are riding on a bike/pedestrian path or on a roadway, always use the rightmost lane and ride in the direction you are headed.
7) Protect Your Fellow Cyclists: When you're behind the wheel of your vehicle, don't forget about your fellow bike riders. In case you haven't heard, there is a Safe Passing 3 Foot law in Hawai'i (hooray)!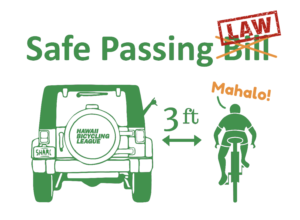 The Safe Passing 3 Foot law requires that motorists passing a bicyclist offer a minimum of three (3) feet of separation. Simply put, your driving should reflect how you want to be treated when you are riding a bike.
The Takeaway
National Bike Month is NOT about who can ride the most miles, but about encouraging everyone to set biking goals and ride for health and happiness. This May, we're celebrating the many benefits of bicycling and hoping that it inspires a few more folks to give bike riding a try!
If you're looking for more ways to get in on Bike Month, Bike to Work Week 2021 will take place May 17 through May 23, 2021. And if you only hop on a bike once this month, we hope it's for Bike to Work Day on Friday, May 21!
See you out there!