Connecting People and Places
PATH works with Hawaii State & County, local leaders, and you to safely connect people and places on Hawaii Island with bikeways, sidewalks and pathways. Together, we can make our community even better.
Every year, PATH facilitates regular bike education classes for our youth. They are introduced to bike safety, taught how to ride with aloha and even receive a free bike helmet to protect their noggin.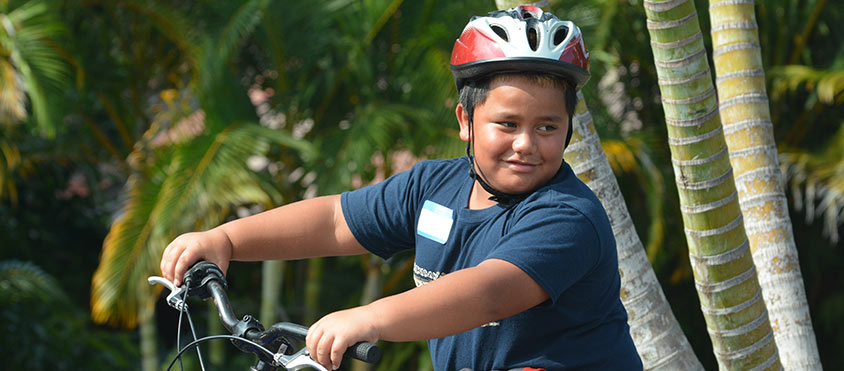 Home

PATH is a community-based, grassroots 501(c)(3) non-profit public access advocacy organization serving Hawaii County. Our mission is to safely connect people and places on Hawaii Island with pathways and bikeways. PATH was founded in 1986 in response to a growing need for places to walk, bike and hike safely and legally in Hawaii County.
The PATH board of directors, staff and over 1,500 members from across the state and across the world believe that publically accessible trails, bikeways and pathways do much to revive Hawaii's unique history, allow us to live sustainably as islanders, preserve our fragile natural environment and build strong community relationships. The ability to talk story with a neighbor, fish along the shoreline, ride a horse through the mountains, go for a walk with one's spouse or ride a bike to school are the daily activities of life in Hawaii that build trust, connect all of us both socially and culturally, provide daily physical activity, reduce energy demand and keep pollutants out of the air and water. In a very fundamentally human way, trails, pathways and bikeways have the unique ability to stitch our community together into a healthy, equitable and sustainable tapestry of life in Hawaii.
Over the past 25 years, PATH's board of directors and membership have worked to carefully thread the needle of leadership with resources from government, the private sector and the community in order to sew together these important investments in publically accessible trails, pathways and bikeways.
Become a PATH member and enjoy special privileges while you help make Hawaii Island a better place to live.