The #BW4H Series, Part 1
A father teaches his kids how to ride their bikes, enjoying views of majestic Mauna Loa in the distance. A grandmother pushes a giggling baby in a stroller, breathing in the salty smell of ocean air. Two nurses take a walk in the shade, spending their lunch break listening to the sound of waves lapping against the shore. A college student jogs by, stopping to take a picture of a bright rainbow hanging between the row of coconut palms.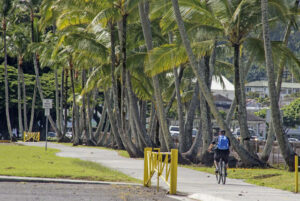 This isn't a scene from a Hollywood movie or a Hallmark card commercial. This is Hilo Bayfront Trails (HBFT), a local pathway that enables residents and visitors to enjoy  Hilo Bay's picturesque shoreline by biking, walking, or using other non-vehicular modes of travel.
HBFT was conceived in 2010 as a Hawai'i County three-phase project to plan, design, and construct a path system from the Wailuku River at Reed's Island to Hilo Harbor's cruise ship terminal. The project was created to be a system of paths connecting existing recreational sites along the Hilo Bayfront area, both mauka and makai of Kamehameha Ave.
The trail's sections have grown to 5,125 feet (approximately one mile), but scenic HBFT did not appear overnight. It is the result of over a decade of community influencers encouraging the county to create safer spaces for bicyclists, pedestrians, runners, and trail users.
A Trail Steeped in History
From the beginning, non-profit Hilo Bayfront Trails was intended to be a multi-use path system through downtown Hilo. Once a marshland, the trail is steeped in history. According to oral historical accounts, Polynesians first settled Hilo Harbor around 1100 AD. A royal center for many of the early chiefs, Hilo's bayfront is likely to have been the site of their summer homes.
And legend has it that a prominent rock in the upstream Wailuku River (at the northern end of Keawe St.) is the site of the demigod Maui's canoe crash. Rushing to save his mother, Hina, from a water monster that was threatening to flood her cave beneath Rainbow Falls, the devoted Maui paddled his canoe with such haste across the ocean that he crash-landed at this spot, turning the canoe to stone.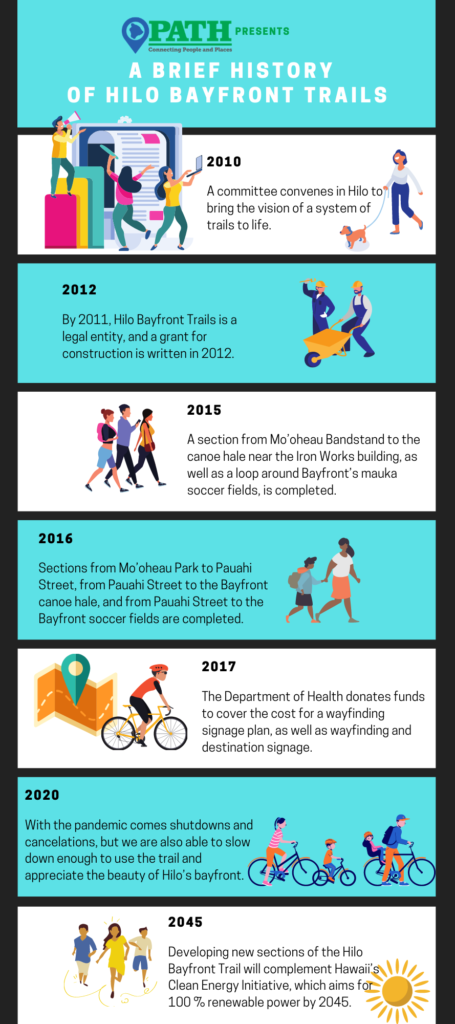 Commitment to family is a characteristic of Hilo Bay that endured the passing of time.
"Everybody wants a place to walk with their family," says Sally Ancheta, the Eastside Hawai'i Island Community Coordinator for Hawai'i Public Health Institute and a HBFT board member.
"But before 2010, there were only houses and roads here – There was no bike or pedestrian infrastructure," adds Matthias Kusch, Vice President of Hilo Bayfront Trails. "We saw this need and brought a vision to life."
Seeing this need, a committee convened in 2010 to bring the vision of a system of trails to life. By 2011, Hilo Bayfront Trails was a legal entity, and a grant for construction was written in 2012.
In 2015, a section from Mo'oheau Bandstand to the canoe hale near the Iron Works building, as well as a loop around Bayfront's mauka soccer fields was completed. With the support of a community open to the possibilities, the sections from Mo'oheau Park to Pauahi Street, from Pauahi Street to the Bayfront canoe hale, and from Pauahi Street to the Bayfront soccer fields were completed by late 2016. Such support is proof of how important Hilo Bayfront Trails is to our existing community.
In 2017, the Department of Health donated funds to cover the cost for a wayfinding signage plan, as well as wayfinding and destination signage. Such support is proof of how important Hilo Bayfront Trails is to our existing community.
HBFT has also done a variety of community-based fundraising, promoting the non-profit status to engage donors. During that time, the LWCF grants were discovered, which resulted in the existing trail. The assistance of local rotary clubs and benefactors of the community was also sought after.
Ed Olson and the Olson Trust have been our greatest benefactor and supporters by far, as Olson donated $35,000 to match our small-time contributions (website traffic donations, rotary clubs, and trail engraving sales). Work to sell the 12' x 12' squares of the trail with an engraving for $500 each has raised about $12,000, which won't cover the cost of the trail, but can help if more engraving donations are received.
Community enthusiasm about the trails is apparent, however, the prohibitively high cost of building them out is a huge barrier to the private citizen donation route. Upon examining other communities with thriving trail systems, it should be noted that local municipalities build public infrastructures like bike and multi-use trails. All indications point to the best approach to getting trails built on Hawai'i Island is to apply for large private, state, and federal grants, in combination with lobbying elected officials.
Incredible work has already been done to create HBFT, a path designed to last for many generations. But in order for the trails to benefit the community for generations to come, it's time for us to do more.
Awareness, Cultural Connectivity, and Improved Health
Establishing interesting loops is among the upcoming plans for the trail's near future, including a shared-use circuit around Waiakea Pond and in the Waiolama Canal Area.
"The next section would go right past the pond, which is a real hidden gem in Hilo!" says Matthias, describing its calm waters dotted with lily-pads. "I have a friend who grew up in Hilo and he never knew about the pond. This section of Hilo Bayfront Trail would make it accessible to more people who have lived here their whole life."
"Access, awareness, and connectivity. That's what the trail is about," Matthias adds. "And with a pedestrian loop in Downtown Hilo passing by so many historical buildings and artifacts, it can connect users to Hilo's rich history."
The Hilo Bayfront Trails project also has an interpretive component with a mission to share the bayfront's culturally significant sites. Additionally, the shared-use path in Mo'oheau Park will offer users an alternate means to reach upcoming cultural and public events at the Mo'oheau Bandstand, the Palace Theater, and other popular Downtown Hilo venues.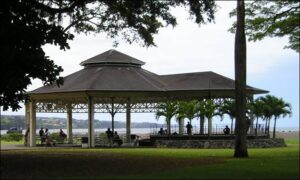 Envision easily accessing our most renowned cultural event, the Merrie Monarch and its Royal Parade as it winds through Downtown Hilo on the first morning of the global festival. Or safely walking to the Hilo Orchid Society's annual show and sale at the Edith Kanaka'ole Multi-Purpose Tennis Stadium and beholding gorgeous displays of thousands of exotic orchids.
In addition to cultural connection, the expansion of Hilo Bayfront Trails will make it possible to implement transportation-related educational programs for drivers, bicyclists, and pedestrians alike – Programs that could impart a share-the-road perspective for increased use of alternative transportation in the bayfront.
Developing HBFT further would also offer opportunities for bicycle education programs for all ages, boosting awareness among drivers of cyclists' needs and rights, as well as awareness about the fitness and health benefits of bicycling. And you don't even need to own a bike to enjoy riding Hilo Bayfront Trails. The HIBike bikeshare system is located at HBFT's Mo'oheau County Park trailhead, with one-time rides available at the bikeshare kiosk and monthly subscriptions available online.
"One of the reasons that this trail was built is to be part of the process of improving our community's health," explains Sally.
Showcasing the natural beauty of Hilo, the trail is ideal for getting the heart pumping with a jog or a bike ride. It doesn't hurt that the view while working out on Hilo Bayfront Trails is better than any found in a gym.
And studies show that time spent outside – simply walking among trees while taking in views of the ocean – lowers blood pressure and decreases the stress-related hormones adrenaline and cortisol.
Since existing pedestrian walkways at Waiakea Peninsula already offer ease of access to treasured vistas of the bayfront, integrating them into Hilo Bayfront Trails would also lend itself to the preservation of the beauty that is already there naturally.
Small Steps Toward Big Impact
According to projections based on the latest U.S. Census, the current population of Hilo, Hawai'i is 45,056. That's nearly one-third of Hawai'i Island residents living in and around a city that supports a diversified Hawaiian economy of agriculture, aquaculture, education, government, ranching, tourism, and trade.
By completing the build-out of Hilo Bayfront Trails, the project would connect the visitors that will once again arrive by plane or cruise ship to local businesses by way of a shaded walkway by the water. It could connect medical professionals from the hospital, as well as students from the high school, university, and community college to the stress-relieving benefits of the outdoors. And ultimately, the fully protected bikeway/walkway would connect the people and places of Hilo.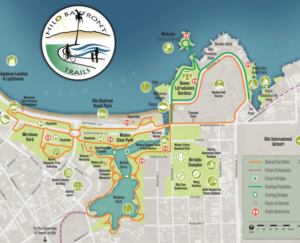 "The trail invites people to come together," Sally points out. "I see Hilo Bayfront Trails connecting all of us to our town and even other towns eventually!" Recently, HBFT and Hawai'i County submitted a federal grant application to develop the next leg and do just that.
We're looking forward to the day when the shared-use pathway throughout the bayfront area and Hilo Harbor features nearly six miles of trails to connect more than 700 acres of land with dedicated bicycle lanes, pedestrian sidewalks, and multimodal paths.
Developing new sections of the Hilo Bayfront Trail will also complement Hawaii's Clean Energy Initiative, which aims for 100 percent renewable power by 2045.
By working toward these developments, we can leave the gas-guzzling vehicles at home at last and ride the bike to the Hilo Farmers Market to pick up some fresh produce, handcrafted gifts, and tropical flowers from local farmers and crafters. Supporting local agriculture and reducing our carbon footprint should go hand in hand, and with new sections of the trail, they can!
"It will be so impactful when all five phases of the trail are realized!" emphasizes Matthias. "But we have to start with what we have and take the small steps today."
Small but essential steps, like continuing fundraising initiatives and encouraging donations which enable HBFT to fund the next phases and related improvements.
While funding can be a big challenge, it doesn't have to be insurmountable. Hawai'i County, which is responsible for attaining funds for trail implementation, has been looking at several potential sources for a while now. These include capital improvement project funding and grants.
"Currently, Hawai'i Residents have about 7 miles of fully protected bikeways and walkways in completed sections of Queens' Lei in Kona-Kailua, Waimea Trails and Greenways, and Hilo Bayfront Trails," says Jessica Thomson, Executive Director of PATH. "Once all sections of Hilo Bayfront Trails are completed, Hawai'i residents will have almost double that!" Jessica continues. "We're excited to see Hawai'i County take the next step towards developing these trails!"

Accessibility and Connectivity for Future Generations
Built to implement historic preservation, cultural celebration, and a sense of pride in the bayfront area, Hilo Bayfront Trails' role in accomplishing all this became more integral than ever in 2020.
With the pandemic came shutdowns and cancelations, but we were also able to slow down enough to use the trail and appreciate the beauty of Hilo's bayfront. With gyms and schools closed, it was one of the few places still accessible and safe to go for exercise and recreation.
Because of Hilo Bayfront Trails, we were able to get out of the house, make memories with our ohana, and connect with neighbors in a way some of us never had before. Having an outdoor space that is free and nearby became essential in the face of uncertainty.
"2020 reminded us what's really important, like family dinners, slowing down, and getting outside. I started walking after work and running," says Sally. "And Hilo Bayfront Trails became a place where we could all relax and feel safe outdoors."
Even as the world opens back up and some degree of normalcy is being restored, the deeper connections and new traditions that we've established won't soon be abandoned. With the help of the community and Hawai'i County, Hilo Bayfront Trails can continue to provide much-needed connectivity to downtown, as well as enable accessibility around local parks and the bayfront area for generations to come.
PATH
PATH is working to elevate the efforts of walking/biking/running advocates and Hawai'i County, with an emphasis on creating more protected places for people to use mobility devices, walk, or bike on Hawai'i Island. By supporting continued development of Hilo Bayfront Trails and other biking paths and walkways through the Building Better Ways for Hawaii (#BW4H) series, we hope to encourage Hawai'i County to take action, expanding existing passageways and creating safer spaces for walkers, runners, bicyclists, and trail users.
Over the summer, we'll shine the spotlights on the progress of Waimea Trails and Greenways, and Queens' Lei, so be sure to check back soon!