Hawai'i County Brings Big Changes to Island's Mass Transit System, Offers Free HIBIKE Bikeshare to Hele-On Riders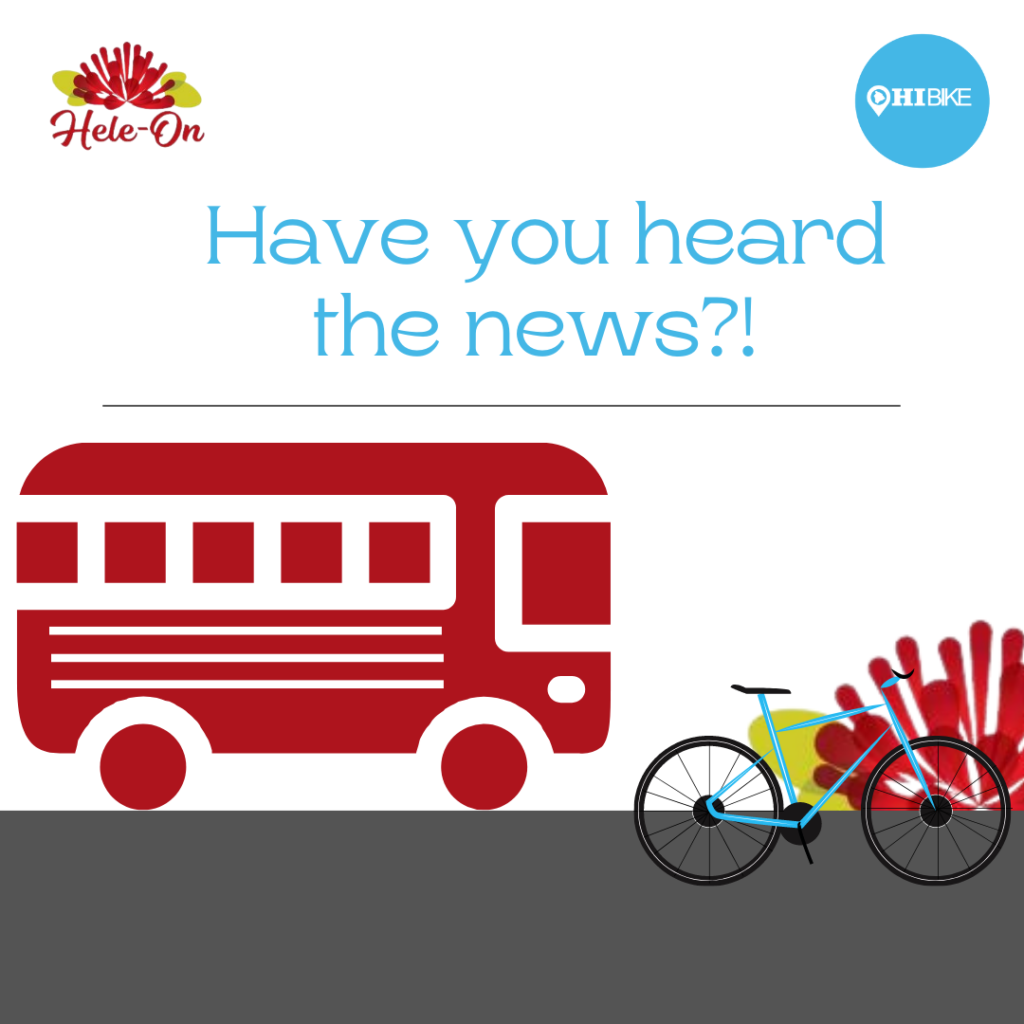 HILO, HI. January 5, 2022 – The County of Hawai'i Mass Transit Agency has recently announced that Hele-On passengers have a new, viable transportation option that provides economic, health, and convenience benefits. Hele-On bus riders can now access HIBIKE Bikeshare at no additional cost. For free access, every Hele-On rider can ask bus operators for a code to use at the HIBIKE kiosks.
The free HIBIKE Bikeshare offering is the result of changes to the Mass Transit System under the leadership of interim Mass Transit Administrator at Hawai'i County, John Andoh. 
"Mayor Mitch Roth brought me to Hawai'i County to implement the actions detailed in the transit and multimodal transportation master plan adopted in 2018," says Mr. Andoh. "Additionally, I came onboard to restructure Hele-On to be a true economic driver for this island, and bring in new modes to help move people around."
These modes include the department's partnership with People for Active Transportation Hawai'i (PATH) to put into action van pools, partnerships with Lyft and Uber, a new route network that will make it easy for everyone to get around the island, and HIBIKE Bikeshare.
Mr. Andoh is also focusing on addressing the need for internal circulation within urbanized areas of rural environments, such as Hilo, Kailua-Kona, Waimea, and Pahoa.
"Multimodal opportunities can start simple, like with a bikeshare system in rural areas for 'first mile, last mile' connections from a transit bus to someone's destination," affirms Mr. Andoh, pointing out that bikesharing can also be combined with flexible demand responsive services like a taxi. "We have multiple stations that we are funding in partnership with PATH to demonstrate intermodal connection."
Integration of the HIBIKE Bikeshare System
In 2016, PATH's partnership with the County of Hawaii's Research & Development Department piloted a bikeshare system in Kailua-Kona to test how bikeshare could work on Hawai'i Island, which was eventually expanded to the Hilo area. As part of this expansion, Mass Transit came on to start subsidizing the bikeshare operation,  incorporating it into the family of services provided by the agency. 
Since bikesharing promotes active, healthy transportation and exercise, it's important to maintain this bikeshare system as part of Hawai'i County's multi-mobility or multimodal transportation plan. 
Bikeshare stations are also incredibly beneficial in areas where a bus route may not make sense because the destination may be close enough to mainline transit. And establishing bikeshare stations near bus routes to get to and from an off-route location eliminates the need to deviate a mainline transit route. 
More Highlights of Hawaii's Mass Transit Master Plan
In addition to the partnership between Mass Transit and PATH to provide HIBIKE Bikeshare opportunities, offering riders a connection from the transit system to other destinations, highlights include:
A paratransit service, which provides transportation for persons with disabilities who cannot take traditional Hele-On bus services. 

Enhancements to shared-ride taxi program, including partnerships with Lyft and Uber.

A partnership with the Hawai'i County Economic Opportunities Council and the Brantley Center to promote demand-responsive specialized programs and provide door-to-door services.

A Department of Education (DOE) partnership, providing bus service in neighborhoods around the island and ensuring access to educational opportunities for Hawaii's students.
A service of PATH and Hele-On, HIBIKE Bikeshare is a form of mobility management ideal for anyone who wants to leave their car parked during a short trip, or enhance their transportation options. In other cities with a bikeshare system, it's been shown that local businesses benefit, with an increase in visibility on the street-level, because people are out of their cars and more aware of the businesses around them. 
For more information on integration of the HIBIKE Bikeshare System, visit: 
www.heleonbus.org/hibike and for more details on Hawai'i County's Multi-Modal Transportation Plan, please visit: The PATH blog: A Game Changer .
 # # # 
PATH
PATH is a community-based, grassroots 501(c)(3) non-profit active transportation organization serving Hawaii County committed to elevating the efforts of community groups and Hawai'i County to create more multi-modal trails for active transportation in Hawai'i, with an emphasis on developing more protected places for people to use mobility devices, walk, or bike on Hawai'i Island.