We are hiring a Development Director!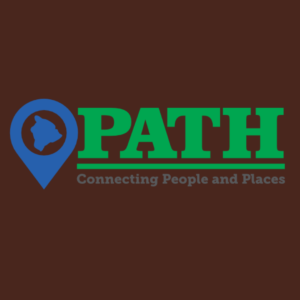 Position: Development Director
Reports to: Executive Director
Supervises: Intern
Status: approximately 35 hours per week on average, exempt
Salary: $45,000-$55,00 plus benefits (see below)

About PATH– People for Active Transportation Hawai'i: PATH is Hawai'i Island's only nonprofit organization dedicated to promoting active transportation throughout the island. Our mission is to connect people and places to bikeways and walkways in Hawai'i County. For over thirty years, we have been working toward a world where people living and visiting Hawai'i County are not reliant on the single occupancy vehicle to get around on this beautiful island. The health of the 'aina, as well as our collective and individual health, depends on everyone having access to accessible, clean, active transportation systems.  Our programs include: HIBike Bikeshare, Bike Safety and Education, and a variety of advocacy work. Most recently, we have been instrumental in developing, passing, and helping implement Hawai'i Island's Vision Zero Action Plan and Complete Streets commitment. Finally, we are working very closely with our partners at Hawai'i County's Mass Transit Department to implement the County's Transit Multi-Modal Transportation Master Plan.
Our Development Director will help us build out PATH's capacity to partner with the people of Hawai'i Island to create a clean, equitable multi modal transportation system. This is a unique opportunity to work alongside fun, dedicated, caring staff and volunteers for an outstanding nonprofit. We are looking for a motivated, talented individual who has a heart and mind invested in meaningful nonprofit work. 
We believe by welcoming differences, encouraging new ideas, listening to & learning from each other, and providing opportunities for enrichment, we are better able to serve our community.
About this position:
The Development Director oversees and manages PATH's development activities. They work in direct partnership with the Executive Director and in collaboration with the Fundraising and Communication Committees to achieve strategic and financial goals that will sustain the organization into the future. A successful Development Director will align PATH development activities with community-centric fundraising principles. The ideal candidate has deep connections to Hawai'i Island, is looking for a mission-driven position, is a good writer, and is interested in learning and growing with PATH. 
Essential Responsibilities and Duties Include:
LEADERSHIP & OPERATIONAL ENGAGEMENT
Lead the Board Development Committee and provide support to the Executive Director to ensure stewardship and performance of Board members.

Act as a primary liaison and support to the Board of Directors regarding fundraising and communications activities & goals.

Provide fundraising updates at Finance Committee and Board meetings.

Contribute to the development of strategies, budgets, and other operational components.

Help with creation and implementation of strategic plan, including equity, diversity, and inclusion processes.

Support organizational data review of program reporting and evaluations.

Assist Executive Director in planning and decision making.

Ensure funding requirements are in alignment with programmatic goals and results.

Oversee proper financial reporting and reconciliation.

Lead and maintain an organizational culture of philanthropy.

Other leadership & operational duties as assigned by the Executive Director.
FUND DEVELOPMENT
With the Executive Director, draft PATH's Development & Communications Plan with the Fundraising Committee and manage all activities in reference to this plan.

Manage fundraising goals through annual fund development & appeals (monthly donor program, year-end appeal, corporate giving, etc.); grant and contract writing.

Maintain current best practices across development activities and bring new opportunities to the table.

Manage individual and corporate giving to annual fund campaigns; expand  portfolio of donors.

Manage grant-writing efforts by researching and contacting foundations, tracking due dates, writing grants, and providing grant reports.

Maintain accurate donor records in SalesForce, report on donor trends, and provide timely acknowledgement and updates.
Qualifications:
Benefits:
Employer-paid health benefits

Flexible paid time off

Training and professional development opportunities

Remote work (although must live in Hawai'i County permanently)
Application materials must include: 1) a cover letter explaining how your life, and/or educational, and/or professional experiences have prepared you for this role and what the mission of PATH means for you and 2) your resume. Please email these materials to sharetheroad at pathhawaii dot org and write in the email subject line: Development Director Application. 
We thank you for considering this employment opportunity!